Disko Duk Duk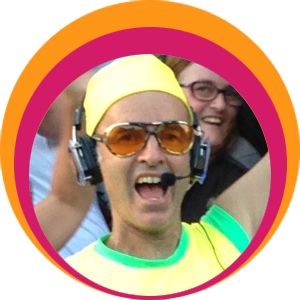 Disko Duk Duk loves bringing joy to the streets. His tours take you on a magical journey of silliness, singing in the streets, crazy flashmob dances and being just a tiny bit naughty in public spaces. His music is high energy and playful.
Disko Duk Duk is the creation of David Hall who also has a background is Physiotherapy and runs a national consulting business which provides services in Workplace Physio throughout Australia for clients big and small. He also has a background in Group Facilitation, Impro theatre. He is known in his local street as the Disco Dad who entertains the neighbourhood's kids with regular backyard trampoline discos.
Checkout his Facebook page here.
See testimonials below.
Gallery pics:
Testimonials
On Saturday night Disko Duk Duk took my sister's Hen's party through the streets of Melbourne… and it was absolutely fabulous! Disko Duk Duk was sensational. He arrived perfectly on time, with all equipment ready to go and got all women into the swing of it immediately. His enthusiasm was contagious and his humor, matched with his groovy dance moves helped propel all women into dancing unencumbered immediately! We moved around the streets a sea of giggles, laughter and crazy dance moves and I have to say everyone had an absolute ball! Since finishing, I've had many, many women say that it was the best Hen's day activity they have ever done and they are recounting story after story to people, amazed at how much fun they had! Disko Duk Duk was professional, fun, fabulous and absolutely everything we had hoped for. Thank you so much for making Bec's Hen's brilliant!

– Kate from Melbourne