About
We are a company of performers and facilitators who are passionate about using play, love an laughter to engage people towards greater connection with themselves, each other and the outside world. Originating from Melbourne, we are now branching out into other cities in Australia, UK and Europe.
We are most known for our Silent Disco Walking Tours – an original concept created by Guru Dudu in 2013. In addition we run other workshops, events and retreats that work with similar themes in different formats. We are always open to talking to new collaborators in other cities.
Guru Dudu
Guru Dudu is a lovable funny man who opens our "laughter meridians" through accessing the inner-child, particularly in group settings. He's passionate about giving people permission to play and celebrate their creative and quirky selves.
As well running his unique Happy Yoga and Silent Disco Walking Tours, Guru Dudu also MC's events, performs on-stage as a warm-up act, and runs other hilarious workshops such as "Cosmic Speed Dating."
Guru Dudu first performed "Happy Yoga" at the 2008 Melbourne International Comedy Festival after discovering the hidden location of the main laughter meridian – in the 'assana' region of body. In 2013 he launched "Silent Disco Walking Tours" combining his passions for theatre improv, placemaking and engagement.
David Naylor
Guru Dudu is the creation of David Naylor – a Melbourne-based Performer, Facilitator and Place Making consultant. He also facilitates team building and leadership work in organisations. More info at www.davidnaylor.net.au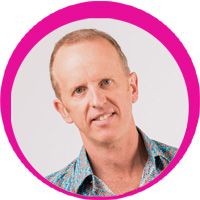 The Team
We now have a growing team of Silent Disco Tour Guides in Australia and UK who come from various backgrounds including clowning, theatre, education, facilitation, healing arts, tourism and more. Check out their profiles here.
Acknowledgements
We acknowledge the original custodians of all the lands that we dance and walk upon, and all of the generations who have danced on these same lands for many thousands of years before us. 
We kindly acknowledge the music artists and producers who created all of the fabulous music that we play in our tours – bringing joy to so many people. We pay a portion of all ticket fees to the music licensing agencies in each respective country.