Disko YoYo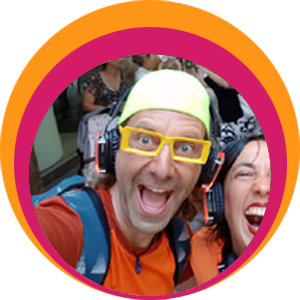 Disko YoYo loves dancing and silliness. He is driven by bringing happiness and smiles to people. He loves physical comedy, getting people to push their comfort zone and finding joy in the moment. He is a big hit with the Hen's nights in Melbourne and made is international debut  in 2018 over 3 weeks at the Edinburgh Fringe to sold out audiences.
Disko YoYo is the creation of Mark Nussy who has a background in IT, professional photography, adventure tour leading (Indonesia, India and Africa), business consulting, retail management, festival organising/running, acting, volunteer organisations and more. "I love variety and keeping it interesting".
Checkout his Facebok page here.
See testimonials below.
Testimonials
Disko YoYo was our leader for my sister's Hens night and it was awesome! He was hilarious and kept the energy going in the group for the whole time. Everyone was raving about how much fun we had afterwards.

– Monique Graham
We had a brilliant time! Best thing we have ever done at the festival. my 5 & 7 year old loved it!! Disko YoYo is so much fun. Can't wait to do it again.

– Laura Diamond
Fantastic tour. Disko YoYo is so much fun. Never laughed so much whilst exercising!

– Emma de Loseby
5 stars just isn't enough… this experience is the most amazing fun, I'm sore from laughing.

– Paul Purvis