Yarra Grooves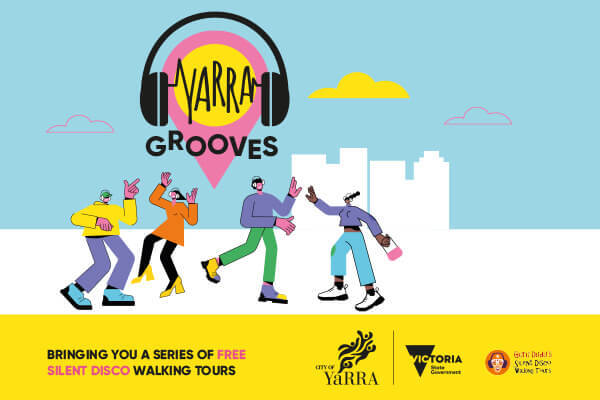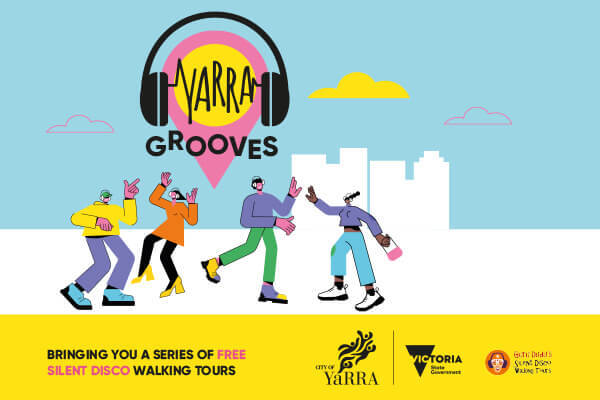 We are partnering with Yarra City Council to bring you a FREE series of Silent Disco Walking Tours around the City of Yarra celebrating the unique character of Yarra's main street villages.
Let's bring some life, vibrancy, and fun back to the streets of our locality.
Be guided by our trained Silent Disco Hosts with fun commentary
Enjoy uplifting songs through specially designed headphones (provided)
Dance, move, and celebrate the unique character of Yarra
Learn stories and history of the area in a fun, quirky way
A Silent Disco Walking Tour is a fun and playful way to interact with the world around you. We all wear headphones (supplied) and are listening to the same playlist of uplifting songs to dance to. The tour is guided by one of our trained Guru Dudu Hosts who provide fun commentary and gently invite a playful interactive experience of all involved.
Who is it for?
All ages and abilities
Fun-loving people
Community groups
Groups of friends
Work teams
Where will they be?
 

Smith St
Johnston St
Brunswick St
Gertrude St
Rathdowne St
Nicholson St

North Fitzroy
Queens Parade
Victoria St
Bridge Rd
Swan St
Church St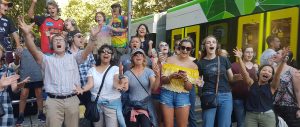 Tour Schedule – Book here

All tours are FREE thanks to the City of Yarra:

Sat Jul 23 – 6.30pm, Boogie Nights – Brunswick Street, Fitzroy

Fri Jul 29 – 6.30pm, Boogie Nights – Johnson St, Abbotsford

Sat Aug 6 – 6.30pm, Kylie Minogue Theme – Swan St, Richmond

Sat Aug 13 – 6.30pm, Boogie Nights – Gertrude Street, Fitzroy
Do you know any stories from these precincts?
The tours will tell some interesting or quirky stories from each precinct. Do you know any or can you tell us who would know? We are looking for stories that may be historic, cultural, including more recent happenings or even personal stories to your experience of this area. For instance:
This is where the horses used to drink in the 1800's
This shop used to be a brothel and is now an ice-cream shop
My partner proposed to me on this corner dressed up as Prince
We are also looking to make a playlist for each area – so if you can relate a song to a story, even better.
Contact
For more info, contact Fleassy
0478100611
For bookings, click here