Señor Samba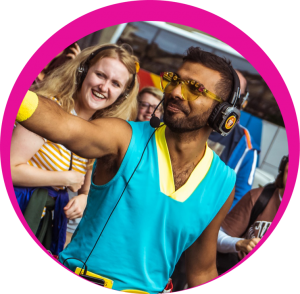 Don't let Señor Samba fool you with his dulcet tones, he still knows how to party! Never afraid to show the world his true colours, he'll make sure that you do too. Music and dance is a way of life for him, and he's on a mission to experience that with as many people as possible! So in the immortal words of Fred Astaire: 'Let's face the music, and dance.' His favourite colour is turquoise, and personal quote of choice: 'Every song has to end, doesn't mean you can't enjoy the music'.
Señor Samba is played by Rikesh Chotai who hails from the quaint little city of Brighton, UK, right by the sea. Rikesh loves travel, adventure, and adrenaline. You can often find him jumping out of a plane or bungee jumping whilst on fire. He has worked as a teacher and business consultant amongst other things.
See testimonials below.
Testimonials
It was a great success having Señor Samba over for the silent disco. The reactions were fantastic!! Thank you so much for everything!.. and we'll be in touch again!

– Jessica Huiberts – Rituals Cosmetics Enterprise, Holland

Thank you so much for a brilliant night. You made it great with your lovely way with all of us. Some people weren't keen but nothing but rave reviews afterwards. 

– Fiona, Brighton