Guru Dudu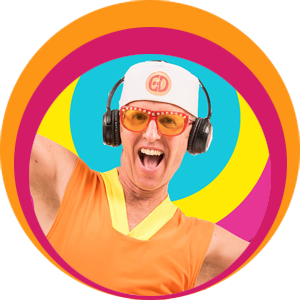 Guru Dudu is a lovable funny man who opens our "laughter meridians" through accessing the inner-child, particularly in group settings. He's passionate about giving people permission to play and celebrate their creative and quirky selves.
Guru Dudu first performed "Happy Yoga" at the 2008 Melbourne International Comedy Festival after discovering the hidden location of the main laughter meridian – in the 'assana' region of body. In 2013 he launched "Silent Disco Walking Tours" combining his passions for theatre improv, placemaking and engagement.
Guru Dudu is the creation of David Naylor – a Melbourne-based Performer, Facilitator and Place Making consultant. He also facilitates team building and leadership work in organisations. More info at www.davidnaylor.net.au
See testimonials below.
Gallery pics:
Testimonials
On behalf of Jo and myself I wanted to say a huge "Thank You" for being part of Love Letters to the Heart of Victoria on Wednesday night. The Disco Tours made my night  Seeing all those happy dancing people was a delight…I also enjoyed my tour a lot. We have had nothing but positive feed back on the evening and that's in no small part to your skills in disco moves.

– Elizabeth Walsh, Regional Centre for Culture (Bendigo)
Everything was marvellous yesterday. Every single person in our group had a total blast with you and spoke about how they simply let go of inhibition and ended up feeling so free. Videos of the tour did the rounds and those who met us out later were really upset with themselves that they didn't give it a go. Such an awesome thing you are doing to bring this joy to people. Some of our party have never even been out in Melbourne before, despite being here up to four years already! The mummas who can't get away from their kids often, particularly enjoyed it. And of course there was those of us who enjoy being a bit dramatic from time to time, and it was awesome to have an outlet to do that 🙂

Thank you once again for the most awesome afternoon. Your spirit really shone through and helped others to shine too 🙂

– Krystal
This is a really beautiful experience! I've lived in Edinburgh for years but to be able to dance and sing around the main streets without reservation was therapeutic in a way that I didn't expect. AND I went on my own and was so nervous! But I needn't have been, once the dancing started, we all bonded very quickly. 🙂

– Eri
I wanted to take the time to say personally THANK YOU for your energy & enthusiasm. Everybody loved you !!! I think it was the best fit ever with the Happy Yoga and the Silent Disco tours… I can tell you enough how fortunate I feel having found you on the program of the Fringe Festival last year. I believe it was cosmic energy that made that happen. Thank you so much!!! I wish you all the best, lots of love and sincerely hope our paths will cross again. You are a star!!

– Simone Vlaar, Executive Assistant, Rituals, Holland