Funky Fox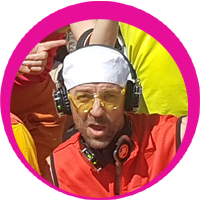 Funky Fox tours are fun and are tuned to make people feel better. Even for a moment. He encourages play on the tours and most oblige. We play, we laugh, we dance and we sing.
Funky Fox probably has two left feet but that doesn't stop him from skipping the light fandango.
Funky Fox is played by Stefan Fox-Cooper who is a commercial photographer and professional entertainer known for his impressive Mad Hatter Character and wide range of custom characters and MC work.