Dani Disco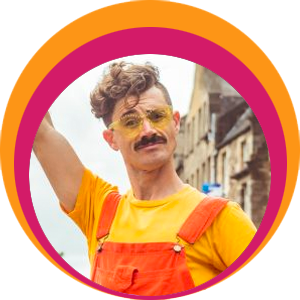 Dani Disco's natural charm, cheeky smile and absurd clowning are guaranteed to make even the most rigid of audiences laugh and boogie till they drop. He loves getting those feet moving with the best funk, disco, soul and RnB from the 70's, 80's, 90's with the occasional rock ballad thrown in of course. He was a crowd favourite at the 2018 Edinburgh Fringe to sold out audiences.
Dani Disco is the creation of Dani Cabs is a clown, physical comedian and MC who has been making and delivering shows nationally and internationally since 2014. He believes that play is essential in creating good communities. His background ranges from aerobics instructor to tour guide on tropical islands. His website is www.danicabs.com.
See testimonials below.
Testimonials
I had the absolute joy of participating on a tour with Dani Disco yesterday and I can honestly say it is up there with one of the happiest hours I have ever spent!

– Leanne, 2018 Edinburgh Fringe
This show is gloriously silly, fun, and the perfect way of seeing Edinburgh while making a fool of yourself. Danny Disco was an excellent tour leader and I haven't stopped smiling!

– Ashton M