Conferences
Are you serious?
Conferences can be serious business so it's good to include moments to lighten-up along the way. Our team of warm and quirky characters can entertain your conference with some "out-of-the-box" magic:
Happy Yoga on-stage routines from 5-12mins.
Interactive Laughter Workshops: 30-60 mins (Happy Yoga, Disko Physio)
Silent Disco Walking Tours at lunchtime or end of day – can be tailored to suit the theme of the conference.
Roving in breaks. This works well following an on-stage routine that has already introduced the character to the au – A fun way for people to meet each other. We facilitate a story of creation from the big bang to the present day, with lots of stop-offs for people to interact in pairs, trios and small groups.
AIMA Conference, Melbourne
Guru Dudu performed on stage as well as roving in breaks.

Happiness and it's Causes, Melbourne
Guru Dudu created a post-it note wall in the main foyer that represented a map of the world. People were invited to write down a short anecdote of something unconventional that makes them happy: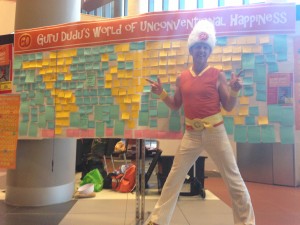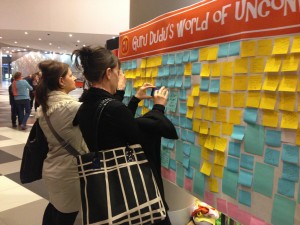 Contact Form