Conferences
Are you serious?
Conferences can be serious business so it's good to include moments to lighten-up along the way. Guru Dudu can entertain your conference with some of his fun "out-of-the-box" magic:
Happy Yoga on-stage routines from 5-12mins.
Happy Yoga Laughter Workshops: 30-60 mins
Silent Disco Walking Tours at lunchtime or end of day – can be tailored to suit the theme of the conference
Roving in breaks. This works well following an on-stage Happy Yoga routine that has already introduced Guru Dudu to the audience. He can give people readings from his deck of "Mr Men" cards, or invite them to share a story of unconvenvtional happiness.
Comedy Cabaret – great for the end of the conference. Drawing on the themes of the conference and utilising Theatre Impro techniques to encourage participation
AIMA Conference 2012
Guru Dudu performed on stage as well as roving in breaks.

AIMA Conference – longer version

Happiness and it's Causes – 2013
Guru Dudu created a post-it note wall in the main foyer that represented a map of the world. People were invited to write down a short anecdote of something unconventional that makes them happy: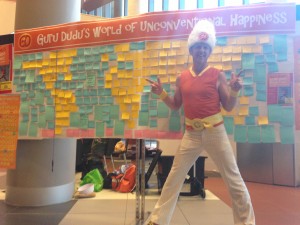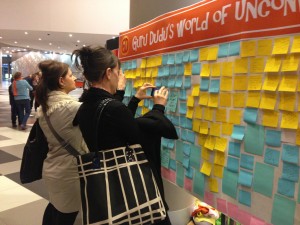 Contact
Contact David now to discuss ideas.
Tel 0422 406 809