Meet the Village People
Guru Dudu has expanded his Australian family in order to spread the good vibes even further around the world. He has trained up three Silent Disco Tour Guides who are already taking the town by storm. They are each available to run private and corporate tours as well – contact here for more info.
Disko Duk Duk
Disko Duk Duk will take you on a frolic of funk with music that is high energy, quirky and ageless. His style of playfulness and silliness helps to bring people together under a blazing dazzling disco ball of devilish moves. You will lose yourself to dance.
Lila La Diva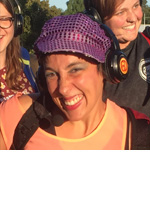 Lila La Diva brings a radiant shiny smile and happy dancing vibes from the country with the loosest hips: Spain! Lila will charm you into her disco web and loosen your inhibitions before you've had time to blink. You will easily be swept up in her magnetic enthusiasm for all things dance.
Mucho Micho
Mucho Micho comes from the Latino land of the Tropicana rhythms where the passion for dance, music and celebration is a basic necessity from birth. He brings the healing rhythms of Chi-Cha-Cha, funk mixed with the evergreen disco. He will keep a big FIESTA always drumming in your heart! Salud y amor!